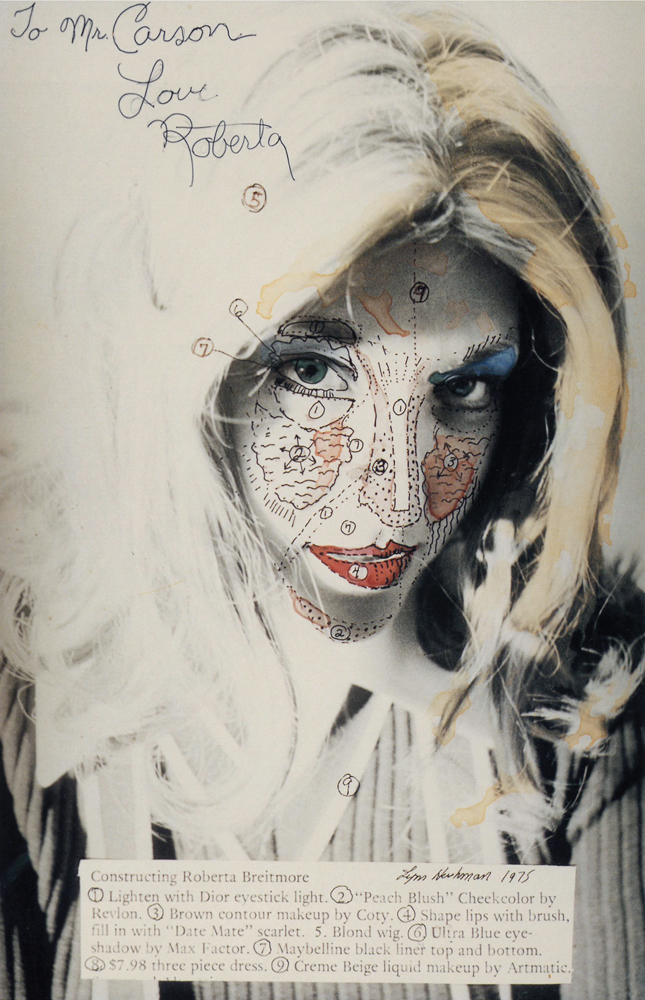 Lynn Hershman Leeson, Constructing Roberta Breitmore. 1975, Ektacolor print inscribed in ink, 19 3/4 × 12 3/4 in. (50.2 × 32.4 cm).
Gather your barware and join di Rosa Curatorial Associate Twyla Ruby for a spirited MINI happy hour.
Twyla will be sipping a Platinum Blonde cocktail and guiding a deep dive into Constructing Roberta Breitmore by Lynn Hershman Leeson, a work on view in The Incorrect Museum: Vignettes from the di Rosa Collection.
Zoom login:

Meeting ID: 814 9331 9396

Passcode: 201753
Cocktail Recipe: The Platinum Blonde
1 ounce grapefruit-rosemary-infused vodka*
1/2 ounce elderflower liqueur
1/2 ounce grapefruit juice, freshly squeezed
1/2 ounce lemon juice, freshly squeezed
1/2 ounce simple syrup
Garnish: rosemary sprig
Directions
Add the infused vodka, elderflower liqueur, grapefruit juice, lemon juice and simple syrup to a shaker with ice and shake until well-chilled.

Double-strain into a chilled cocktail glass.

Garnish with a rosemary sprig.
Mocktail Recipe: Sparkling Highlights
1 ounce grapefruit sparkling water
1/2 ounce elderflower water
1/2 ounce grapefruit juice, freshly squeezed
1/2 ounce lemon juice, freshly squeezed
1/2 ounce simple syrup
Garnish: rosemary sprig