When asked about viewers of his work, Oliver Lee Jackson responds, "It's for anybody's eyes. Any eyes will do." 
This exhibition presents—for "any eyes"—a selection of Jackson's works in painting, sculpture, and mixed media. While recent retrospectives at the National Gallery of Art and Saint Louis Art Museum have brought renewed critical attention to Jackson's paintings and works on paper, this exhibition highlights the true breadth of his practice, featuring previously unseen works in materials ranging from burlap, felt and paint to steel, wood and marble.
Guest curated by Diane Roby.
About the artist
Oliver Lee Jackson's artworks are in the permanent collections of The National Gallery of Art, Washington, DC; Museum of Modern Art, New York; The Metropolitan Museum, New York; Museum of Contemporary Art, Chicago; Detroit Institute of the Arts; New Orleans Museum of Art; Los Angeles County Museum of Art; Portland Art Museum, Oregon; St. Louis Art Museum; Museum of Contemporary Art, San Diego; San Francisco Museum of Modern Art; Fine Arts Museums of San Francisco; San Jose Museum of Art; Seattle Art Museum, and many other public and private collections.
Since 1982 Oliver Jackson's studio has been in Oakland, California.
About the Curator
Diane Roby has worked for artists and arts organizations since the 1970s as an archivist, publicist, communications director, and guest curator. She holds an MFA in sculpture from San Jose State University. She has worked with Oliver Lee Jackson for nearly forty years, and also manages the artworks inventory of the Lawrence Ferlinghetti Trust.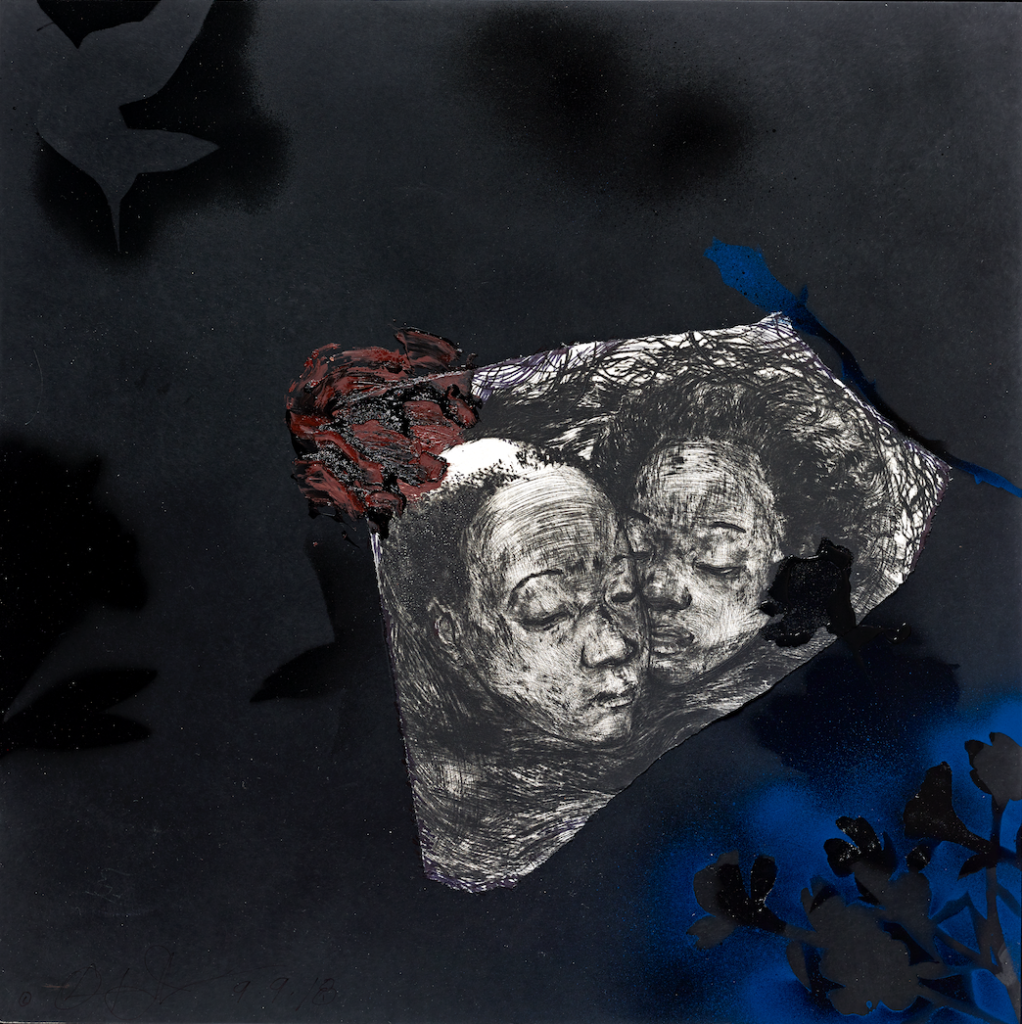 Public Program
In Conversation: Oliver Lee Jackson and Diane Roby
February 12 | 3 PM
In a series of black-on-black paintings from 2013–14, images emerge from contrasting gloss and matte black paints with color undertones, sprayed over cut stencils. These paintings are not fully seen from any one view—imagery appears and disappears from different angles or in varying light, in a constantly shifting dynamic. Echoes of the stenciled forms also appear in the tapestries and paintings on view.
A figure pulling a heavily loaded cart has been an often-recurring image in Jackson's work since the mid-1960s. Such "junk haulers" are seen in every community, carting off the detritus of society, throwaways that nobody wants or would claim. The cart is piled with figures, flowers, clothing, objects—people and things dismissed as not being of value. This figure, usually hatted and hunched under the weight of the cart, can take on mythical and archetypal stature—Sisyphus and the boulder, or Atlas bearing the weight of the world.